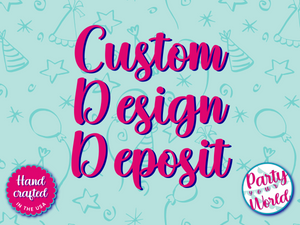 Deposit to design Friends themed save the dates to be delivered by 11/30/23 or sooner to go out 12/1
Invitations to follow will be delivered February 2024.  Additional design fee will be required for invitations.
Details:
The One When Michele Turns 50 
Gold/Purple theme
*Deposit is nonrefundable but it applied to final cost.
Design cost includes two mockups with one round of small changes.  Additional/Large design changes may require additional design fee.
Mockups will be delivered to client's provided email address one week after checkout. 
It is the client's responsibility to provide feedback with 3 days of receipt in order to stay on schedule.
Proposed timeline
11/3 - Checkout
11/10 - Mockup delivery
11/13 - Client feedback received
11/17 - Final design delivered and approved
11/20 - Printed
11/22- Shipped to client
11/27-Received by client